Raspberry Scones
The taste of raspberries make this one a keeper.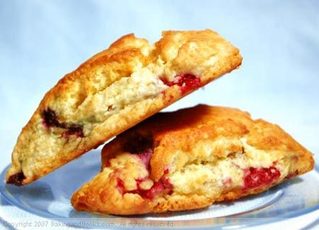 Ingredients
4 1/2 cups flour
1 cup sugar
4 teaspoons baking powder
1 teaspoon salt
1/2 cup butter
2 cups cream
1 1/2 cup raspberries

Preparation

Step 1
Preheat oven to 425F degrees.

Step 2
Combine flour, sugar, baking powder, and salt. Cut butter into mixture until it resembles a course meal.

Step 3
Set aside 2 teaspoons of cream. Add remaining cream and raspberries to dry ingredients.

Step 4
Mix lightly with fork until mixture forms a stiff dough. Knead on floured board 5 to 6 times.

Step 5
Roll into 7-inch round and cut into wedges.

Step 6
Place 1 inch apart on greased baking sheet; pierce top and brush with cream.

Step 7
Bake for 15 to 18 minutes. Serve warm.