Lattice Topping for Fruit Pies
This technique can be useful for other dishes, but it is often used on fruit pies.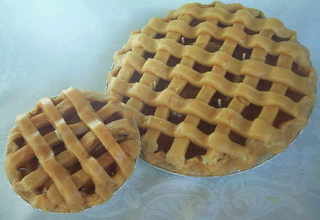 Preparation
Prepare your dough. It should be chilled at least half an hour before you begin rolling it out and making your lattice. Roll out half the dough and line the pie plate. Refrigerate.

Step 1
On a lightly floured surface, roll reserved dough out to a ¼-inch thickness.

Roll it in a circle, as though preparing a double-crusted pie. Transfer the dough to a small cutting board, baking sheet, or other rimless pan that will fit in your refrigerator.

Step 2
Carefully cut the dough into strips approximately ¾-inch wide.
You can use a sharp knife, pizza cutter, or scallop-edged pastry wheel. If you're worried about cutting straight, use a ruler as a guide.