Rhubarb Pie

Delicious
A sweet pie that has a tangy taste since since rhubarb is its main ingredient. It is often served warm with a scoop of vanilla ice cream.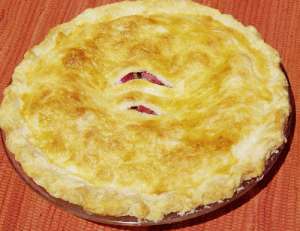 Ingredients
1 Prepared pie crust
Rhubarb, cut into 3/4" pieces
1/2 cup Sugar
1 tbsp (heaping) flour
1 cup Milk
2 Egg yolks
2 tbsp Sugar
1/2 tsp Cinnamon
2 Egg whites
3 tbsp Sugar
Preparation
Line pie pan with prepared crust. Fill over half full with rhubarb cut in 3/4" pieces. Combine 1/2 cup sugar and 1 heaping tablespoon flour. Sprinkle over rhubarb.
Combine 1 cup milk, 2 egg yolks, and 2 tablespoons sugar. Mix well. Pour mixture over rhubarb. Sprinkle with cinnamon. Bake until set at 350 degrees F. Approximately 45 minutes
For meringue, beat 2 egg whites into a stiff froth. Add a tablespoon of sugar and continue beating until mixture holds its shape. Fold in 2 tablespoons sugar and flavor to taste. Spread over pie and brown in a slow oven.