Key Lime Pie
An old southern recipe, from Key West, Florida that still is popular today. Authentic Key Lime pie uses tiny yellow Key limes, which are bursting with juice. There are however many variations of the recipe available today.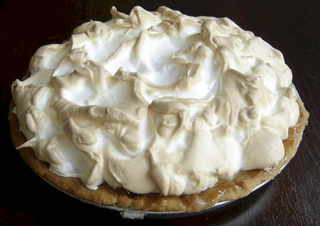 Ingredients
1 14-oz can sweetened condensed milk
3 egg yolks
1/2 cup milk
grated peel of one lime, outside part only (avoid white)
2 Tablespoons corn starch
1/2 cup lime juice
graham crackers

Preparation
Line a 9" pie plate with graham crackers, breaking them as needed. Although you can use a standard pastry crust pie shell as seen in the picture.
Beat egg yolks. Place condensed milk in a deep glass microwave-safe bowl. Heat in the microwave on high until milk starts to boil, stirring every 15 seconds. Remove from oven. Add a tablespoon at a time of hot condensed milk to the egg yolks while whisking them. After incorporating about five or six tablespoons into the yolks, scrape the yolk mixture into the milk, mixing well.
Microwave again, whisking every 15 seconds, until mixture boils. Remove from oven.
Whisk together the grated lime peel, cornstarch and milk. Add slowly to the condensed milk and yolks, mixing well. Return to the microwave and bring to a full boil, whisking every 15 seconds.
Remove from oven again. Stir in the lime juice, mixing gently but thoroughly. Pour immediately into the graham cracker lined pie plate. Chill well.