Streusel Coffee Cake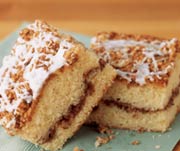 Moist, buttery, and packed inside and out with brown sugar streusel, this coffee cake is as versatile as it is delicious. You can keep individually wrapped slices in the freezer ready to pop in a brown bag lunch for school, a hike, or a holiday road trip. The recipe itself is short and sweet, but it's still a great one for aspiring bakers, with lots of measuring, mixing, and other fun cooking jobs.
First, these are your ingredients. Don't confuse an ingredient list with the recipe. Equally important are the step-by-step preparation instructions. Having your ingredients pre-measured prior to preparation is a secret of master chefs. Obtain small containers which can hold the various amounts of the various items and have those ready in an area otherwise uncluttered with anything which will not be used in baking this cake.
Cinnamon Crunch Topping
1 1/2 cups pecans or walnuts
1/3 cup packed light brown sugar
2 tablespoons flour
1 teaspoon cinnamon
3 tablespoons cold unsalted butter, cut into pieces

Next, the ingredients for the cake itself.