Cherry Coffee Cake
A simple recipe to start your day off right.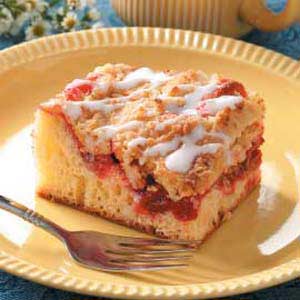 Ingredients
1 1/2 cups cherries, pitted and halved
2 tablespoons all-purpose flour
2 cups all-purpose flour
1 teaspoon salt
2 teaspoons baking powder
1 teaspoon ground cinnamon
2/3 cup vegetable oil
2 eggs
1 cup white sugar
1 teaspoon vanilla extract
1 cup milk

Preparation
Preheat oven to 325 degrees F (165 degrees C). Grease and lightly flour a 10 inch tube pan. Place cherries in a bowl and toss gently with 2 tablespoons flour. Set aside.

Stir together the flour, salt, baking powder,

and cinnamon in a medium bowl. Beat together the oil, eggs, sugar, vanilla extract, and milk until smooth in a large mixing bowl. Stir in the flour mixture until smooth. Fold in the cherries. Pour batter into prepared pan.

Bake in preheated oven until toothpick inserted into cake comes out clean, about 60 minutes. Cool in pan 10 minutes, then turn out onto a serving plate or wire rack.